communicating and interacting with people from other cultures?doing business with people in other countries?managing cross-border teams?traveling or relocating to another country for short- or long-term assignments?looking to improve your global business game?
If you answered YES to any of these, then Atma Insights is for you!
Atma Insights is changing the way professionals can access actionable, unique, and reliable global learning content—making it easier and more affordable. Experience global learning you won't find elsewhere.
WITH
ATMA

INSIGHTS


YOU GET A NEW WAY TO LEARN ABOUT THE WORLD
GAIN KNOWLEDGE QUICKLY
with highly relevant, accurate, unbiased, award-winning learning videos and modules on business, countries, cultures, and global topics.
ENJOY LEARNING
with high-quality, engaging videos livestreamed for easy access. It's less than $17 per month for a virtual passport to the world—start your free trial today.
JOIN OUR COMMUNITY
of global enthusiasts and get educated, stay informed, and connect on up-to-date global business and cross-cultural topics.
EXPLORE and EXPERIENCE
popular videos on culture, countries, business, and global topics. New videos are added every month!
LET

ATMA

INSIGHTS

HELP YOU ACHIEVE YOUR GOAL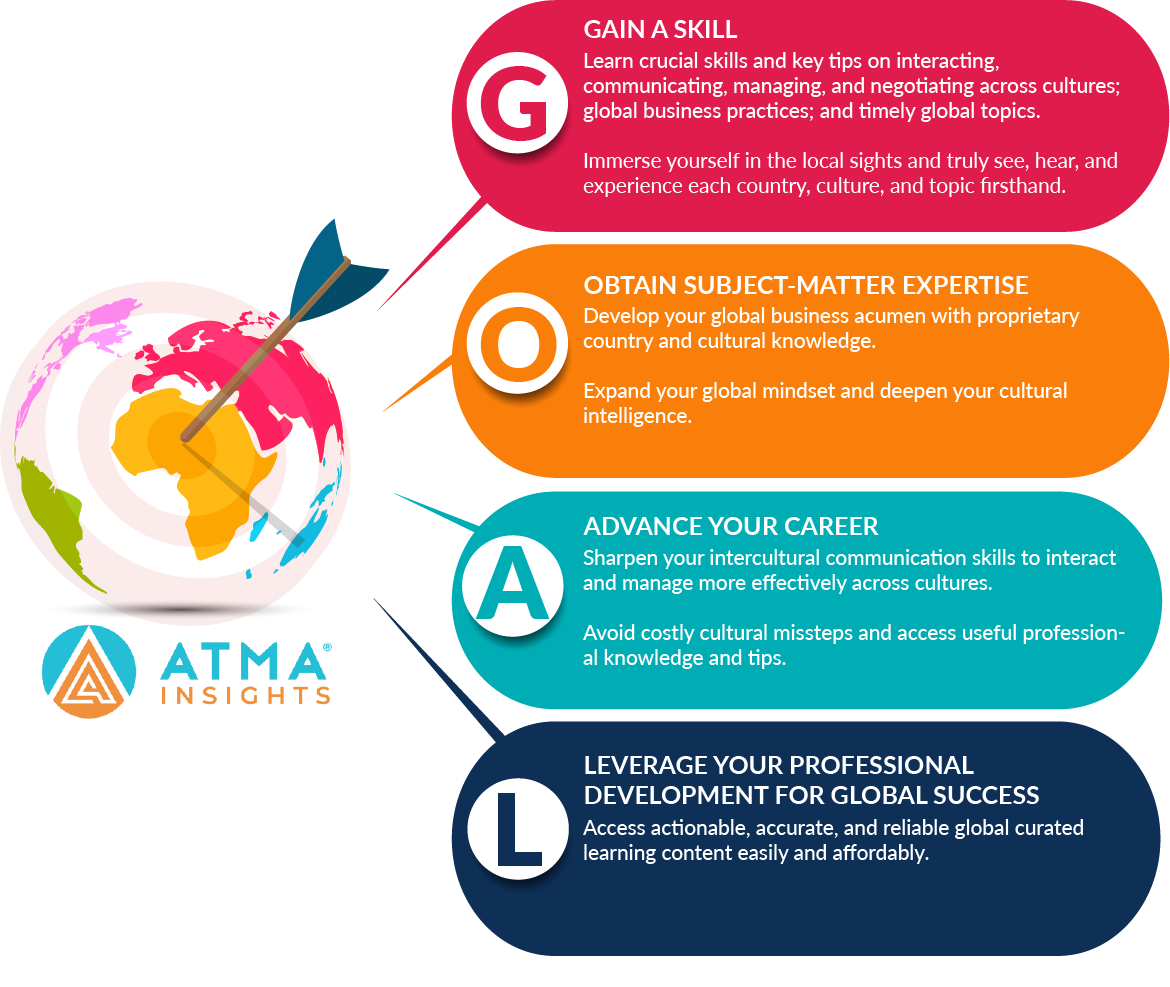 What Is
Atma

Insights

?

Atma Insights is an award-winning, reliable digital resource for accurate proprietary learning videos on countries, cultures, business, and global topics.

Atma Insights promotes understanding of key global business topics as well as how culture influences business and management functions—enhancing the overall effectiveness of global initiatives and impacting the bottom line.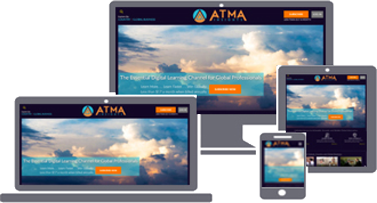 Stream on all your favorite devices, any time, anywhere:
Looking to access
Atma

Insights

resources for your team?
Learn more about how we can help your institution harness efficient ways to integrate workforce development programs and portals, enhancing profitability and achieving organizational objectives.
Atma Insights provides an award-winning, unique, reliable, cost- and time-efficient, and accurate resource tool to support personal and professional development.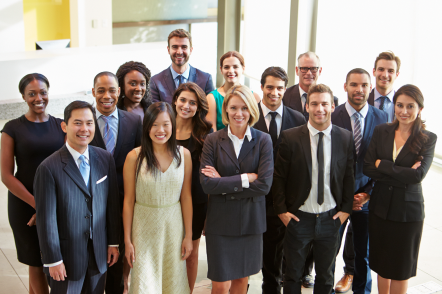 Access Authentic, Trusted Local Knowledge
Developed by our team of country, culture, business, and global experts.
Read what judges have said about Atma Insights.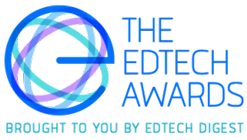 The EdTech Awards recognizes people for outstanding contributions in transforming education through technology to enrich the lives of learners everywhere.
Featuring edtech's best and brightest, the annual program shines a spotlight on cool tools, inspiring leaders, and innovative trendsetters across the K-12, Higher Education, and Skills and Workforce sectors.
EdTech Awards 2022

"The North America Business Elite Awards are always a highlight for me, shedding light on companies across the nation, especially with consideration of the challenges all businesses and all industries have faced over the last year is such an honor. I offer a sincere congratulations to all of those acknowledged in this program and hope you all have a fantastic year ahead."
Awards Coordinator, North America Business Elite Awards 2021

"Atma Insights is a Netflix-style solution for global learners offering unique content for educators and students in a format that crosses borders and expands options."
American Business Awards Judge

"Atma Insights is a savvy business solution and a helpful app that meets global learning needs. It provides professional learning solutions with great content for global businesses, providing important knowledge related to global business and insights into culture and diversity" so users can "be successful in business in each country."
American Business Awards Judge

"Atma Insights provides professional learning solutions for education, helping educators access reliable, unbiased, accurate videos in a cost-efficient digital solution that meets the expectations of tech-savvy students. It is a good example for implementing professional solutions for both students and educators, delivered at the exact right time for online learning."
American Business Awards Judge

Atma Insights won an Honorable Mention for Mobile Learning in the 2020 International E-Learning Awards, Business Division.
Honorable Mention for Mobile Learning
Atma Global's digital learning content on cultures, countries, and global business topics has been used by nearly three million users:
We're Global Thought Leaders
Explore our insightful blogs on cultures, countries, business, and global topics.
Let us educate your inbox.
Sign up to receive new insights once a month.
Explore our thoughtful, analytical approach to developing our award-winning videos.
We're often asked—how does Atma develop its content? Do you have a content methodology—that is, a content philosophy? The short answer is yes, absolutely. Explore more on our content methodology and global team of subject matter experts.
IDENTIFY TOPIC
Identify the country or topic for a video production.
CONDUCT RESEARCH
Consult our expert team of businesspeople, experienced academics, and journalists who have advanced degrees (MBA, PhD) in business or human sciences and experience working and living in-country.
Ensure Subject-Matter Experts are diverse in terms of race, gender, age, ethnicity, religion, geographic location, perspective, and experience.
DEVELOP CONTENT
Develop proprietary content according to methodical internal guidelines.
Incorporate expertise from the hive mind of Subject-Matter Experts instead of a single author.
Focus on editorial integrity and integrate unbiased, seasoned insights from Subject-Matter Experts.
ENSURE QUALITY
Use an exhaustive process of checks and balances to ensure accuracy, quality, and integrity.
Utilize a peer review process led by our Chief Content Officer for superior quality control.
CREATE VIDEO
Deploy an experienced and artistic team of photographers and film editors.
Create moving visuals that tell the complete story of the country and its people.
Strive to immerse the user in the local sights and sounds.
ENGAGE LEARNERS
Offer unique, award-winning, proprietary content you can't find elsewhere.
Deliver accurate, engaging, unbiased videos with content integrity.
Frequently Asked Questions
Still have some questions? We'd love to hear from you.